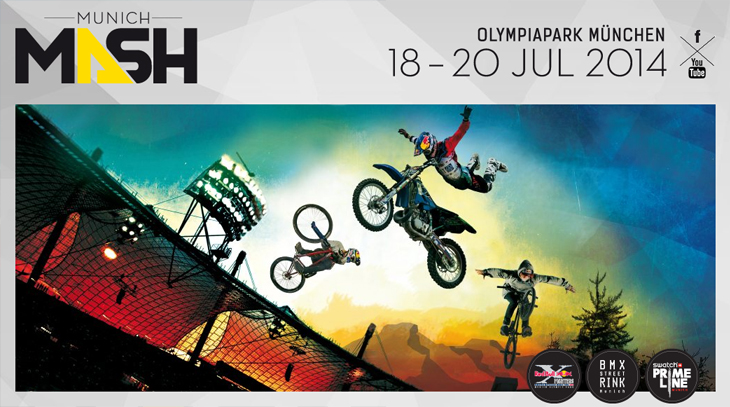 MUNICH MASH /// Munich. Action. Sports. Heroes. …. and Sporthocker!
Next level action sports! MUNICH MASH! From 18 to 20 July 2014 the Munich Action Sports Heroes will demonstrate their spectacular skills in three events: freestyle motocross (FMX), mountain bike dirt jump and BMX street.
RED BULL X-FIGHTERS, BMX STREET RINK and SWATCH PRIME LINE taking place in the spectacular set-up of the Olympic Park. The Red Bull X-Fighters course, for example, will be built right in the middle of the Olympic Lake (world première!). The MTB heroes are set to speed down from a tower in the Olympic Stadium to attack the course that culminates at Coubertin Square, surrounded by fans. BMX will again take place in the Olympic Ice Stadium, but this time the entire stadium will be used for it…
Whatever, SALZIG Sporthocker sits between Olympiaturm and the Willi-Daume-Platz at the area of the Munich Olympiapark. Yeeeah, Hock'n'Roll!
Munich Mash 2014: