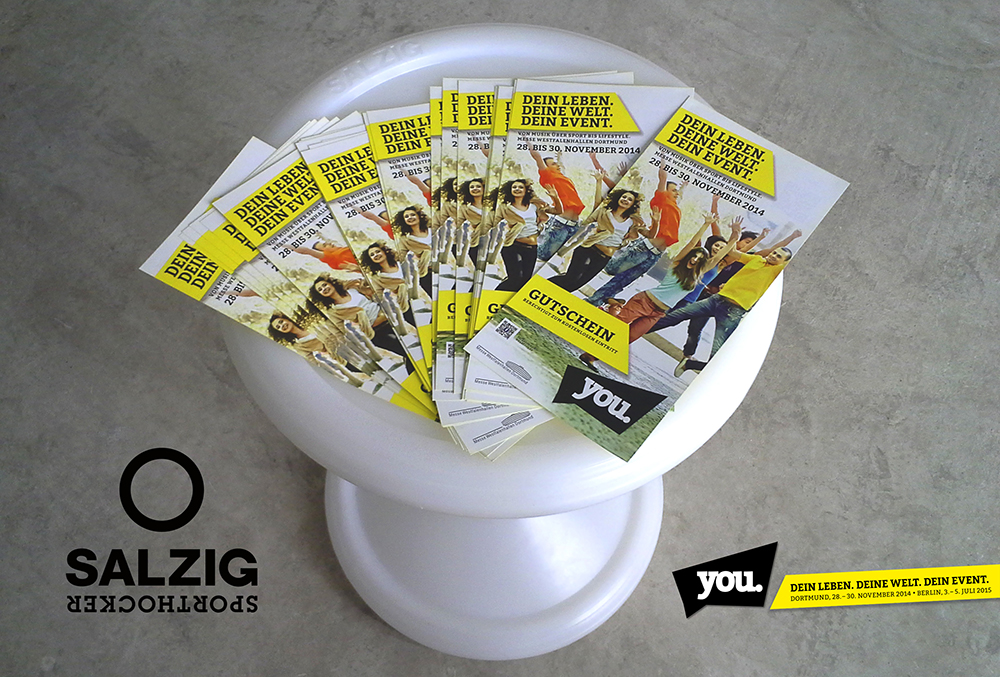 The last big event of the year! The YOU takes also place in Dortmund November, 28th – 30th in the Westfalenhallen. All trends about music.sports.lifestyle. you find at the YOU. You are interested in great music, innovative sports and cool lifestyle? … see you there! We are gonna have an awesome Sporthocker session!

We give away 15 x 2 Tickets for the YOU. Simple take part in our facebook-lottery until November, 20th 2014: https://www.facebook.com/SALZIGsporthocker/photos/a.10150199851721090.310989.239251826089/10152368272946090/?type=1

http://www.you.de/
Check the video of the last YOU in Berlin: https://www.youtube.com/watch?v=ppEfyyVMgI8

Further conditions of the SALZIG Sporthocker-YOU-facebook-lottery:
– All persons from Germany can take part.
– Several comments of one person are rated as one participation.
– Comments which violate facebook-rules, german law and/ or the copyright will be deleted directly after notice. The participant is thereby excluded from the lottery.
– The winners will be determined according to the random principle and will be informed within 7 days after the end of the lottery.
– The winners will be informed with a facebook comment beneath the facebook-lottery post.
– The winners have to send a message within 7 workingdays via e-mail to win(at)sporthocker.com or with a privat message to the SALZIG Sporthocker facebook page with their address. If a winner does not send such a message within that time limit the tickets will be given to other participants determined by the random principle.
– The names of all participants will be recorded and saved for the purpose to determine the winners. All the data will be deleted latest 30 days after the end of the lottery. Address data will only be recorded of the winners and only be used for sending the tickets. No data will be handed ovcer to third parties. The participants have legal rights of information, change and cancellation.